Category Archives:
planning
After having done this a long time, I notice students have a tendency to make certain mistakes.
1) Mistake #1: Waiting to the Last Minute
Fred Hargon, formerly of Princeton and Stanford, used to say that an application was not like a fine bottle of wine. It does not get better with age. Waiting to the last minute often creates stress for you and the people in your life.
Julie Shimabukuro, Director of undergraduate admissions, Washington University in St. Louis offers this insighte:
Many students who submit on the date of the deadline assume that everything transmitted and was received. But sometimes things are lost in cyberspace. By the time we process the thousands of pieces of information that come in on the final day, the actual deadline has come and gone, and it's possible that something is still missing.
The best tool to help you? Your calendar.
2) Mistake #2: Not working with your counselor
Your counselors often know a lot about admissions, specific colleges and universities and you. Your hopes and dreams, interests, quirks and pet peaves. Moreover, in many cases they will be directly advocating for your admissions. So it is encumbent on you to ensure your counselor knows you. To that end, aim to check in every two weeks or so.
3) Mistake #3: Not applying deep
Personally I love workith with ambitious students. But the goal of college admission is to not just get in, but to thrive when you get there. To first part, getting in, you need some schools on your list at which you will be a star. Malcolm Gladwell has a strong opion about going to the place you can be the star.
Work with your counselor to examine the specific selectivity of a college, especially as it relates to your school. Take advantage of visits to your campus. If a college is visiting, they are interested.
And every college on your list ought to inspire you.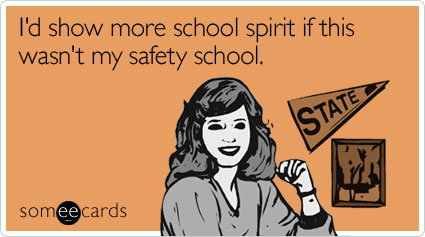 4) Mistake #4:Scratching the surface
If a collges has a supplimentary question, it matters. Often they want to know your specific motivation. As Eric J. Furda, admissions dean at the University of Pennsylvania, indicates:
"We wanted to know, why Penn? Did you submit a generic essay that was part of a school's supplement—another school's supplement? You may need to do a little bit more research before you hit the submit button. Take notes during the campus visit, and even if it isn't your top choice, still understand that you need to speak to that school and show what you are going to contribute to that campus. Articulate why this school is for you. Students who do well will start citing faculty and programs they want to explore."
Typically, the application offers specific, limited opportunities to share about you. Amy Jarich
UC Berkeley, offers this insight:
In the application, the real estate is so valuable. Each part of it should be telling us something new … If you've told us in one essay how you live with your extended family and how important that is in your life, don't tell us in the second essay about how the person you most admire is your grandmother … You want us to think: "That brings a new piece to this puzzle. I like that."
5) Mistake #5: Well begun, half done
Just write it. Students overthnk the essays, and underwrite. Or more precisely, underedit. I have found using the
pomodero method
can greatly help in your productivity as an applicant. There are a few stages in the technique:
Decide on the task to be done–write an essay or fill in the application.
Set the pomodoro timer (traditionally to 25 minutes).
Work on the task until the timer rings. If a distraction pops into your head, write it down, but immediately get back on task.
After the timer rings, put a checkmark on a piece of paper.
If you are in the zone, continue on. If not, take a break (3-5 minutes–leave your desk)
When you return do a different task with the same timer.
After you have 3 ticks, (ie you spent three pomoderos doing tasks, take a longer break (15–30 minutes), reset your checkmark count to zero, then go to step 1.
Using your calendar to set specific tasks each week is inspired. Keep it simple and you will feel more satisifed.
Another part of the story to keep in mind: All admissions are conditional. SO aim to keep a storng year. Here are
some tips
to avoid senioritous.
6) Mistake #6: Missing the Details, details, details
Check deadlines directly with all your colleges.
Check all entry requirements and admission documents specifically with your university.
Do both of these now.
Proof-read all your applications.
Have someone else profreed your applications.
7) Mistake #7: Not owning the process
Who is going to college? Yes, parents are paying and often know their teen well and thus should be involved, but as sounding board and coach. the student MUST take respoonsibility for all parts of the process from researching to applying. One idea I think works very well is a weekly meeting between student and mom and dad conducted in a business style. o it over lunch. Have to do lists. In between, avoid talking about college. The senior knows what needs to be done and needs space to do it.
Here is a handy
to avoid role confusion.
8) Mistake #8: Not looking after yourself
Most teens are going to really blow it with the following:
Not eating well
Not getting enough sleep
Not exercising
Not enjoying life
Technology is part of the issues, but it can also be part of the solution as I portray it in this article
here
. I am a big fan of also taking time every day to cultivate some stillness through mindfulness. My personal favorite is
Smiling Mind
, a free web platform and phone app.