The John Templeton Foundation along with The Greater Good Society and Prosocial are sponsoring a unique college essay contest. "The Purpose Challenge provides students with an opportunity to enter a contest by submitting a college essay they write based on provided guidelines, including a description of a personal long-term goal and what motivates them to achieve it. One grand-prize winner will be awarded a $25,000 scholarship for college, and five second-place winners will each receive a $5,000 college scholarship."
Unfortunately it is only open to US citizens, but the toolkit and resources they created are useful for anyone crafting a college essay and trying to define their meaning in life.
Designed to be done in four sessions, with each session providing a prompt to focus your attention on some aspect of your life and meaning. It starts with a pre-survey of 21 likert scale questions that focus you on where you are at with your own sense of purpose. Day 1 continues with a 360 Review whereby you send an email to five adults to ask them to help them with a project by answering four questions:
What do you think are my strengths and talents?
How do you think I can I use my talents in a meaningful way?
How do you see me contributing to the world in the future?
What advice would you give to help me achieve these goals?
Just with that one act, the challenge has upped the anti. It gives you five touchpoints to look at the world, or more accurately their impact in the world. Wow. 
Each day includes not just activities but also information to educate you on purpose.  
The final activity of day 1 asks students to write about their ideal world, and more importantly, what is something they could do to move it towards that imagined future. 
It does not let you proceed unless you complete each part and it only allows you to work on one day. IE, I have to wait until tomorrow to see where this purpose challenge is going. I really like the idea, though. Even if the teen does not craft a college essay from this experience, they just might find meaning where they had overlooked it. 
Where do teens get a sense of purpose?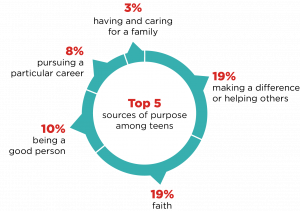 Yet, only one in five teens have identified a purpose. The video above makes a great distinction between How (what do you want to do) and Why (the meaning and motivation driving you).