Category Archives:
college life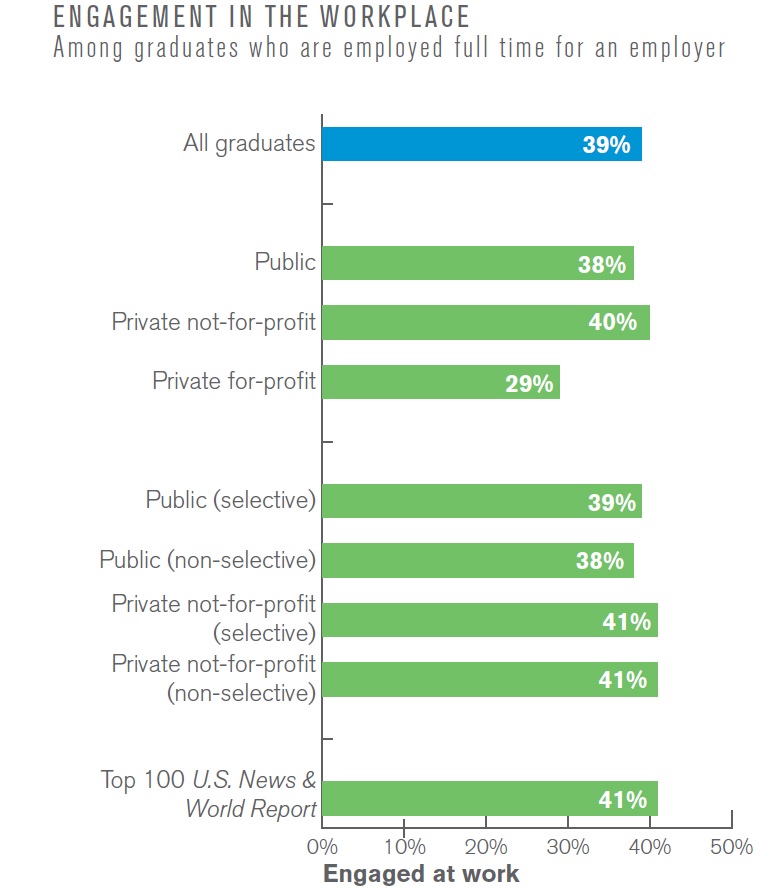 Surprise! Where you go to college matters little to your overall wellbeing and engagement at work. Well except students attending for profit universities score lower. What matters is what you expereince when you are there. Indeed, Gallup raves ""If these magical but relatively simple elements happen to you, it's a profound game-changer for your life and career." What are these elements and how do you ensure they happen at univeristy for you?
I had at least one professor at [College] who made me excited about learning.
The good news: 63% of Survey respondants said they experienced this. The bad news, 37% did not. The heart of the college experience centers not on pure intellectual transfer of knowledge. If it did, MOOCs would rule. While what we learn is important, who teaches us matters even more. As Laurent Daloz Observed in Effective Teaching and Mentoring:
"For good teaching rests neither in accumulating a shelfful of knowledge nor in developing a repertoire of skills. In the end, good teaching lies in a willingness to attend and care for what happens in our students, ourselves, and the space between us. Good teaching is a certain kind of stance, I think. It is a stance of receptivity, of attunement, of listening."
Ever since the advent of Rate My Professor, the public has become more concerned in finding the best professors. The professor rating is just one of the components that the Center for College Affordability and Productivity uses when compiling its yearly best colleges list for Forbes. Each year they provide their own ranking, which pits the following as the top 10:
Duke University, NC

Vanderbilt University, TN

Pennsylvania State University, PA

Stanford University, CA

University of Wisconsin – Madison, WI

University of Georgia, GA

Washington University in St. Louis, MO

Rollins College, FL

Texas A & M University at College Station, TX

University of Michigan, MI
Princeton Review even made a book from partnering with Rate My Profess and published a list of the 300 best professors. Mt. Holyoke tops the list with 14 professors. CBS news also data mined the same source and came up with this list:
- Oklahoma Wesleyan University
- North Greenville University (S.C.)
- U.S. Military Academy (N.Y.)
- Carleton College (Minn.)
- Northwestern College (Iowa)
- U.S. Air Force Academy (Colo.)
- Wellesley College (Mass.)
- Master's College and Seminary (Calif.)
- Bryn Mawr College (Pa.)
- Whitman College (Wash.)
- Whitworth University (Wash.)
- Wisconsin Lutheran College
- Randolph College (Va.)
- Doane College (Neb.)
- Marlboro College (Vt.)
- Centenary College of Louisiana
- Pacific University (Ore.)
- College of the Ozarks (Mo.)
- Sewanee – University of the South (Tenn.)
- Emory & Henry College (Va.)
- Wabash College (Ind.)
- Sarah Lawrence College (N.Y.)
- Hastings College (N.E.)
- Cornell College (Iowa)
- Hollins University (Va.)
Anyone familiar with colleges know why liberal arts colleges show up on the list disportionally.
USNEWS asks college adminsitrators to rate other
colleges for teaching
. Frankly, a strange proposition. But so is a purely number drive site like rate my professor. Prospective students should ask other students to describe their favorite classes and what made them their favorites.
My professors at [College] cared about me as a person.
Sadly inspired teaching does not translate to caring. Only 27% of students reporting feeling cared for as a person by one of their professors. Emerson calls this a spiritual law: "There is no teaching until the pupil is brought into the same state or principle in which you are; a transfusion takes place; he is you, and you are he; then is a teaching; and by no unfriendly chance or bad company can he ever lose the benefit."
The College Prowler provides insight based on ethri student reviews as to the colleges with the most caring professors:
Brigham Young University – Idaho
Liberty University
California Baptist University
College of Wooster
Whitman College
Biola University
Southeastern University
Indiana Wesleyan University
Evangel University
Wheaton College – Illinois
Kenyon College
Wellesley College
Point Loma Nazarene University
Santa Clara University
Cedarville University
Mount Holyoke College
California Lutheran University
Abilene Christian University
Whitworth University
Bowdoin College
Claremont McKenna College
Pomona College
Washington & Lee University
Corban University
Goucher College
"One looks back with appreciation to the brilliant teachers, but with gratitude to those who touched our human feelings. The curriculum is so much necessary warm material, but warmth is a vital element for the growing plant and for the soul of the child." Carl Jung
I had a mentor who encouraged me to pursue my goals and dreams.
Mentors matter, yet only 22% report having one. Like the above two categories, this item reminds us that central to higher education is the role professors play in their students life.
"Many of us carry memories of an influential teacher who may scarcely know we existed, yet who said something at just the right tim e in our lives to snap a whole world into focus." Daloz has written extensively on the role profesor play in college students life:
"We are for some of our students someone who shows them the way through what is often a very confusing and frightening jungle in the academic world . So I think that it is worth recognizing that we are doing work which hooks into deeper levels of the psyche even though we may not be consciously or deliberately carrying out work at that level.
…Our job does not involve simply helping students to solve their own interpersonal problems extraneous to their schoolwork. Nor are we in business solely to pump information into students' minds. Our job is to help students to integrate what they are learning in the academic world with how they process knowledge and how they are growing in an epistemological way. So mentorship is firmly grounded in an interactionist perspective. It is firmly grounded in the notion that we develop through the way in which we make use of knowledge in the environment and also through the way that is concerned with the growth in process and in the form of our thought. You can't simply separate process and content."
Plane and simple, as Chris Peterson would say:
I worked on a project that took a semester or more to complete.
But that is hard work. So hard in fact only 32% of gradautes indicat that this was true for them. In the Yale Report of 1828, the faculty presented a fundamental arguement for not just a broad (liberal arts and science education), but also a pedagogy that engaged students:
The two great points to be gained in intellectual culture, are the discipline and the furniture of the mind; expanding its powers, and storing it with knowledge. The former of these is, perhaps, the more important of the two. A commanding object, therefore, in a collegiate course, should be, to call into daily and vigorous exercise the faculties of the student. Those branches of study should be prescribed, and those modes of instruction adopted, which are best calculated to teach the art of fixing the attention, directing the train of thought, analyzing a subject proposed for investigation; following, with accurate discrimination, the course of argument; balancing nicely the evidence presented to the judgment; awakening, elevating, and controlling the imagination; arranging, with skill, the treasures which memory gathers; rousing and guiding the powers of genius. All this is not to be effected by a light and hasty course of study; by reading a few books, hearing a few lectures, and spending some months at a literary institution.
While the report does specifically state long term projects, it clearly derides a minimalist approach. Students would be well advised to seek out colleges that require or offer. For example, every student at
Princeton
must complete a senior thesis which not only "provides a unique opportunity for students to pursue original research and scholarship in a field of their choosing," but also requires the student to work one on one with a faculty member.
The Capstone requirment at
University of Illinois at Chicago
"is intended to provide students with a scholarly experience that incorporates concepts and techniques learned throughout their undergraduate careers, as well as allowing students to make original scholarly contributions to their academic disciplines."
participation in the four-credit course, Senior Seminar (Biology 489),
the production of a major thesis-driven, analytical paper during the senior year, written through multiple drafts, which includes a thorough review of the literature; and
the delivery of an oral presentation to the department or at an approved undergraduate or professional research conference during the senior year.
Colleges particularly known for the Capstone experience include
Alverno College
Brown University
Carleton College
Clemson University
College of Wooster
Duke University
Elon University
Georgia Institute of Technology
Kalamazoo College
Miami University—?Oxford
Portland State University
Princeton University
Reed College
University of Pennsylvania
The National Survey of Student Engagement, which examines college students' activities annually, shows a steady increase in those completing capstones or senior theses. In 2009, 64% of students reported doing such a project, up 55% from 2000 when the survey began. Some view it as a Can't miss experience. Some say thesis are forever.
I had an internship or job that allowed me to apply what I was learning in the classroom.
Surpingsly, Gallup found only 29% of graduates had participated in a relevant internship. Others place the rate at 85%. Then again, the type of internship clearly matters. Some colleges are clearly light years ahead with up to 100% participation in internships.
Other colleges that US news identified as particulary strong in internships include:

Berea College

Cornell University

Drexel University

Elon University

Elon, NC

George Washington University

Georgia Institute of Technology

Massachusetts Institute of Technology

Northeastern University

Purdue University—?West Lafayette

Rensselaer Polytechnic Institute

Rochester Institute of Technology

University of Cincinnati

Wagner College
Another list can be found here.
I was extremely active in extracurricular activities and organizations while attending [College].
Finally, how you spend time outside of class matters: 20% indicate they were active in extra-Curricular activities. This strikes me as way low. After all every college has activities. Lots and lots of activities.
In The Idea of a University Defined and Illustrated Cardinal John Henry Newman opines that the real purpose of the university cultivates a space:
"It is the place to which a thousand schools make contributions; in which the intellect may safely range and speculate, sure to find its equal in some antagonist activity, and its judge in the tribunal of truth. It is a place where inquiry is pushed forward, discoveries verified and perfected, and rashness rendered innocuous, and error exposed, by the collision of mind with mind, and knowledge with knowledge …. It is a seat of wisdom, a light of the world, a minister of the faith, an Alma Mater of the rising generation."